Centralized Anticoagulation Hub Appears Promising for VA
A pilot program by the Department of Veterans Affairs to provide pharmacist-directed, centralized anticoagulation services is helping streamline care for patients in some rural areas and free up time for clinicians in regional VA centers to manage other patients.
The Centralized Anticoagulation Services Hub (CASH) provides warfarin management services for about 1,100 patients in four Veterans Integrated Service Networks comprising 11 states in the Upper Midwestern United States, Heather L. Ourth, PharmD, the national program manager for clinical pharmacy practice program and outcomes assessment, told Pharmacy Practice News. Three VA medical centers are active participants, with a fourth to join in January.
CASH is based at the Edward Hines, Jr. VA Hospital in Chicago. There, clinical pharmacy specialists and technicians work together to manage patients. Pharmacists, some of whom work remotely, call patients by phone to address nontherapeutic international normalized ratios (INRs), and complete education and risk–benefit assessments. Some patients who are more stable may receive letters instead of calls. Pharmacists also review and co-sign pharmacy technician notes when needed. Pharmacy technicians who are based on-site review new patient requests, address therapeutic INRs, triage patients to pharmacists when necessary, and review incoming calls and messages, retrieve lab results and contact no-shows. A dashboard database helps assist with identifying patients to contact, and tracks metrics and quality monitors.
Success and Expansion
Now one year into a two-year pilot, the program has increased the percentage of time in therapeutic range from 70.7% to 77% over a 14-month enrollment period. The program initially hired three clinical pharmacy specialists and two technicians, with plans to hire additional staff as the program grows.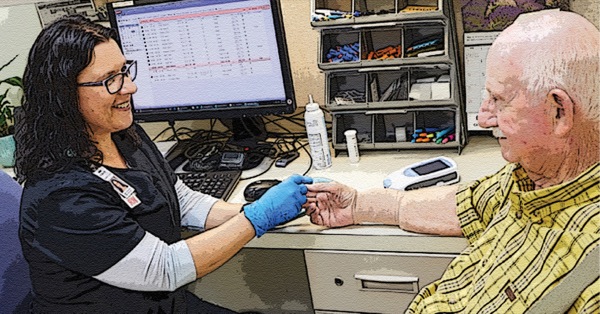 CASH was created in an effort to streamline care for patients, especially those in rural areas, and to better use health professionals' time in regional centers, Dr. Ourth said. While the majority of patients taking warfarin were cared for in pharmacist-run anticoagulation clinics, some in rural areas were being managed by physicians and nurses, or by clinical pharmacy specialists working in primary care settings.
"We felt there could be operational efficiencies that could be gained by piloting this virtual care model that optimizes the role of both the pharmacist and the technician," she said, "and free up physician providers, nurses and primary care pharmacists to be able to see more patients and address chronic disease state management, mental health needs and pain management."
Although the centralized anticoagulation program hasn't yet done formal patient satisfaction surveys, Dr. Ourth said, "the feedback that hub staff has given us is the patients like it and it's convenient for them. They still have to get their labs done, but then they don't have to make another appointment. They know the pharmacists are going to call them with their results and any further instructions."
The program has helped alleviate the workload of providers at the participating VA centers, she added.
The goal is to add additional patients to CASH to reach a target sample of 3,300 by June 2020, Dr. Ourth said. Then, they can spend the last six months of the pilot studying the strongpoints and successes to be able to scale it larger. Additional VA centers have asked to participate.
'A Huge Step Forward'
In anticoagulation therapy, management by phone, telemedicine and related tools has been proven to be as successful as face-to-face encounters, commented John Fanikos, RPh, the executive director of Pharmacy Services at Brigham and Women's Hospital, in Boston.
"The important part of this study was the inclusion and expansion of the role of pharmacy technicians, which is a wonderful advancement," Mr. Fanikos said. "There are lots of patients on anticoagulant and antiplatelet therapy, and if we can utilize pharmacists and pharmacy technicians in a way that supports more of the patient population who receives these drugs and keeps them out of harm's way, that's a huge step forward."